2021, Year of the Ox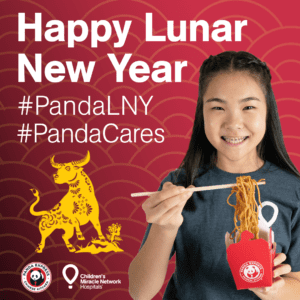 This Friday, February 12, 2021, marks the beginning of Lunar New Year and the Year of the Ox in the Chinese zodiac. Lunar New Year celebrates the coming together of family and friends to feast and welcome the new year and is the most important festival in China.
Since 2007, Panda Express has been bringing good fortune to millions of kids treated at Children's Miracle Network Hospitals by asking for donations at the register all year long. Funds donated stay local and impact patients and families in the East Tennessee community.
We want to join alongside the associates and guests celebrating this Lunar New Year and take a moment to recognize the immense impact made on East Tennessee Children's Hospital in 2020. More than $62,000 was raised to support the physical, social, emotional and mental needs of the children of our community.
To bring good fortune to your family this year, visit your nearest Panda Express location to pick up a meal and celebrate Lunar New Year beginning February 12. We are grateful for the ongoing partnership with Panda and the many ways they address the needs of children, bringing them courage and hope to heal and thrive. #PandaCares